Not knowing when the dawn will come I open every door.
- Emily Dickinson

Yesterday I found the most fabulous thing at a local antique shop. Actually I found a couple things, but this one I just had to share. Of all the things for me to swoon over, I never knew that it would be a door stop! This piece is made of solid wood. Although cast iron door stops are prolific and well known, apparently in the 1920s and 1930s, wooden figural doorstops were very popular as well.

The woman selling the doorstop didn't know much about it, other than the era, as stated above. I can tell you, I will not be using her to prop a door open. Lol! She is quite large, about 18" tall, and her wooden base is a bit hefty, as you can imagine.
She does not have any markings that I can find at all, and that, in addition to the chipped condition of the wood ~ makes her price, according to my research, just about right, if not a bit low. I paid $28 for her. But, could you have resisted ~ look at this face!
I hope your day is full is open doors leading to beautiful finds! I am joining a bunch of parties this week, check out the rest of the participants, or join in the fun yourself!
House of Grace Twice Owned Tuesday
Elements Interiors: Whassup Wednesdays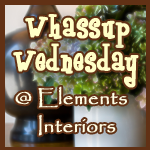 Vintage Thingie Thursday


Jenny Matlock's Alphabe Thursday - since the letter is W, and my doorstop is made of Wood!
Time Travel Thursday
http://thebrambleberrycottage.blogspot.com/