What a joy it was to stumble upon the
Sewn with Grace
blog, a few days ago. Although I do have a sewing machine, any kind of craft that requires stitches is not my forte. I'd love to change that though, and a blog like the one above is definitely a motivator in that direction.
Of course, there is much more than just sewing that graces (pun intended - ha!)
Sewn with Grace
. Renee, the blog owner, also shares her incredible photos, lovely home decor, vintage treasures and other fun stuff, such as gardening, etc.
If you are looking for a lovely and inspirational blog read - I encourage you to stop by
Sewn with Grace
- my Wednesday Web Wonder for today.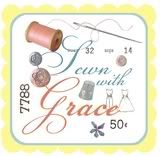 Have a great week everyone!
Do any of YOU have a Web Wonder of your own to share? Leave a comment/link for me here, and perhaps I'll feature your favorite (and give you a plug too!) on another Wednesday Web Wonder feature, in the not too far off future!